1. Call for Papers/ Abstracts/ Panel Proposal
The Joint Conference of
the 13th Biennial Virtual Conference of Asian Consumer and Family Economics Association (ACFEA)
September 12-13, 2020 (Taipei Time, GMT+8 Hours)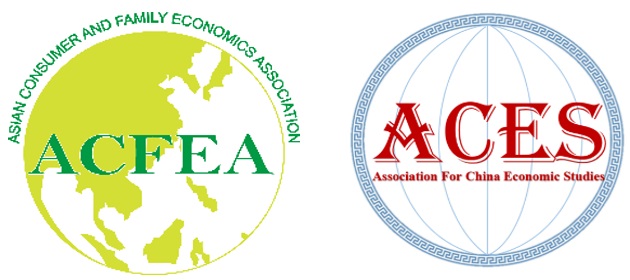 Call for Abstracts / Full Papers/ Panel Proposals
Submission Deadline: July 31, 2020
The Thirteenth Biennial Conference of the Asian Consumer and Family Economics Association (ACFEA) and the 2020 International Conference of Association for China Economic Studies (ACES) are going to be held jointly in the form of virtual conference.
Due to the outbreak of COVID-19, this joint conference will be held in the form of webinars in order to avoid the spread of coronavirus and to protect every conference participant from the risk of being infected potentially.
All sessions will be accessible via Zoom
. The Zoom links for each session will be provided only to registrants. All attendees are able to participant in any session that are interested in.
Benefits of Virtual Conference:
1. Participants can save money from travel and hotel.
2. Participants can save their time.
3. During Corona Virus outbreak, it is safe to stay not to travel.
4. Reduced registration fee and much more.
About This Joint Conference
The Asian Consumer and Family Economics Association (ACFEA) has met every other year since 1995. The past twelve biennial conferences have been held in Malaysia, China, Korea, China, Taiwan, United States, Malaysia, Japan, and Korea, Taiwan, China respectively. The overall objective of the biennial conference is to improve the well-being of consumers, families and businesses in an era where disruptions constantly occur in all aspects of our lives.
In addition, the Association for China Economic Studies (ACES) has established by a group of scholars concerning China's economic issues and contributed to economic research related to China since 2012 and has held an annual conference for many years. The goal of ACES conference is to provide a platform for scholars to exchange their views in issues regarding China's economy.
This joint conference is an excellent opportunity to present scholarly works and obtain critical feedbacks in a professional setting. At the Conference, active and lively discussions are expected among paper presenters and other participants. There will also be intriguing keynote speeches by renowned scholars. We encourage the participation of both faculties and graduate students. Submissions can range from work-in-progress to completed articles aiming for journal publication. We accept empirical, conceptual, and theoretical research in all related fields.